Our main activity revolves around the delivery of two to three years long educative and empowerment programs to marginalized, low-income, peri-urban communities. We focus mainly on households with pregnant and lactating women to have as much impact as possible during the first 1000 days. During those years, we improve caregivers' knowledge, desire and self-confidence to avoid malnutrition in their households, and we equip the household with tools leading to the empowerment of women (financial as well as gender equality issues).
After our intervention, within each community "nutrition ambassadors" are trained to trickle down the knowledge to the rest of the community. In return, these agents will receive a technical or academic training of their choice that could improve their employability.
In parallel to this main activity, we address other urban groups with shorter interventions focused on nutrition and child feeding behavior. We also use mainstream and social media to raise awareness on stunting and change the general public mentality on the bias around nutrition.
---
COVID-19 sustainable response: Face mask production
In the face of the economic crisis that the COVID-19 pandemic has provoked, we believe that imagining sustainable systems that can allow households to earn income right away while also preparing them for the post-crisis is one way to fight this pandemic.
By providing sewing training, raw material, and labor compensation fee, this project aims to initiate a virtuous cycle for vulnerable women who lost their income due to the COVID-19 crisis in a sustainable manner.
They hand produce facemasks that can be donated or sold to generate income and fuel a sustainable business model. N4ED sponsors the women for 3 months in order to give them time to sharpen their skills.  Afterward, they can continue to sustain themselves by selling masks or other crafts in their communities. The most successful ones will later be supported to learn singer sewing and pursue in the sewing profession post-crisis.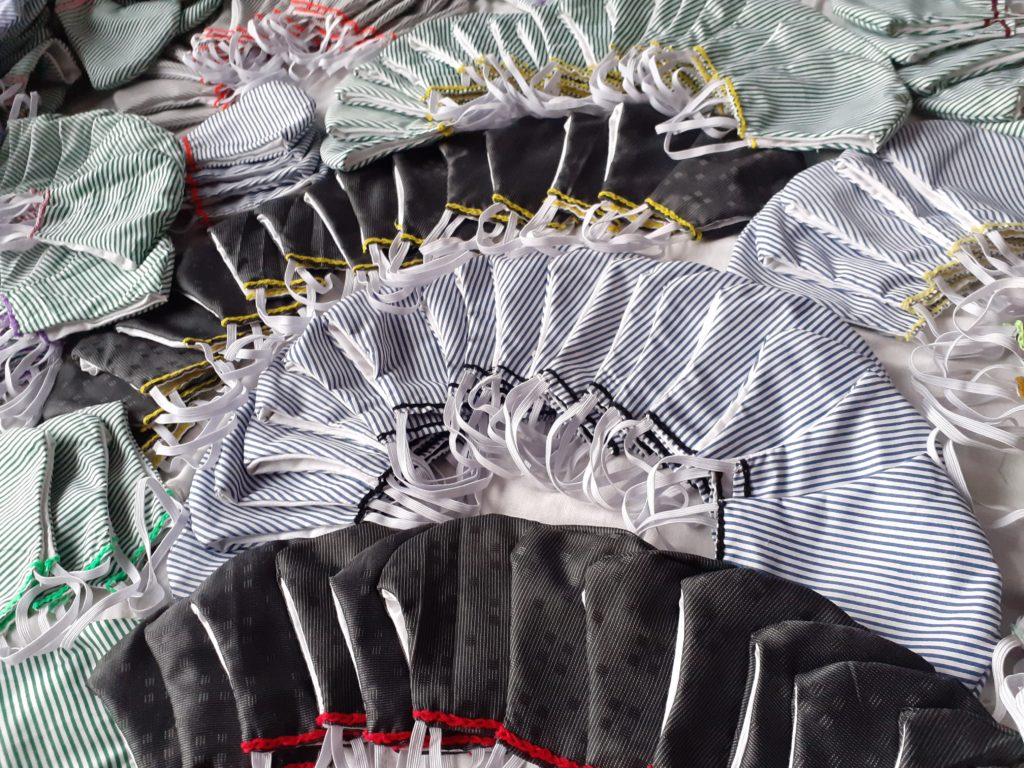 Increase the safety of marginalized peri-urban households against the risks of contracting the virus by enabling them to work from home.
Enable yound mothers generate income for their households and avoid food insecurity
Increase the resilience of communities by introducing alternative and multiple sources of income.
Launch a sustainable model that will enable them to enter a new market and learn skills they can use post COVID-19 crisis.
---
COVID-19 emergency response: Food and sanitary products donation
In response to the ongoing COVID-19 pandemic, N4ED has conducted an emergency response program to help the beneficiaries that are already in the organization's program and other beneficiaries from the community whose income has been heavily affected by the pandemic.
Since the situation is leading them into food insecurity, incapacitating them to provide nutritious meals to their infants, and pushing them to multiply trips out of their house to try and find any source of income to feed their family, N4ED has been providing food ingredients and sanitary materials for these beneficiaries by partnering with a local youth-led initiative named "COVID-19: Let's protect each other" and the generous financial support of various donors.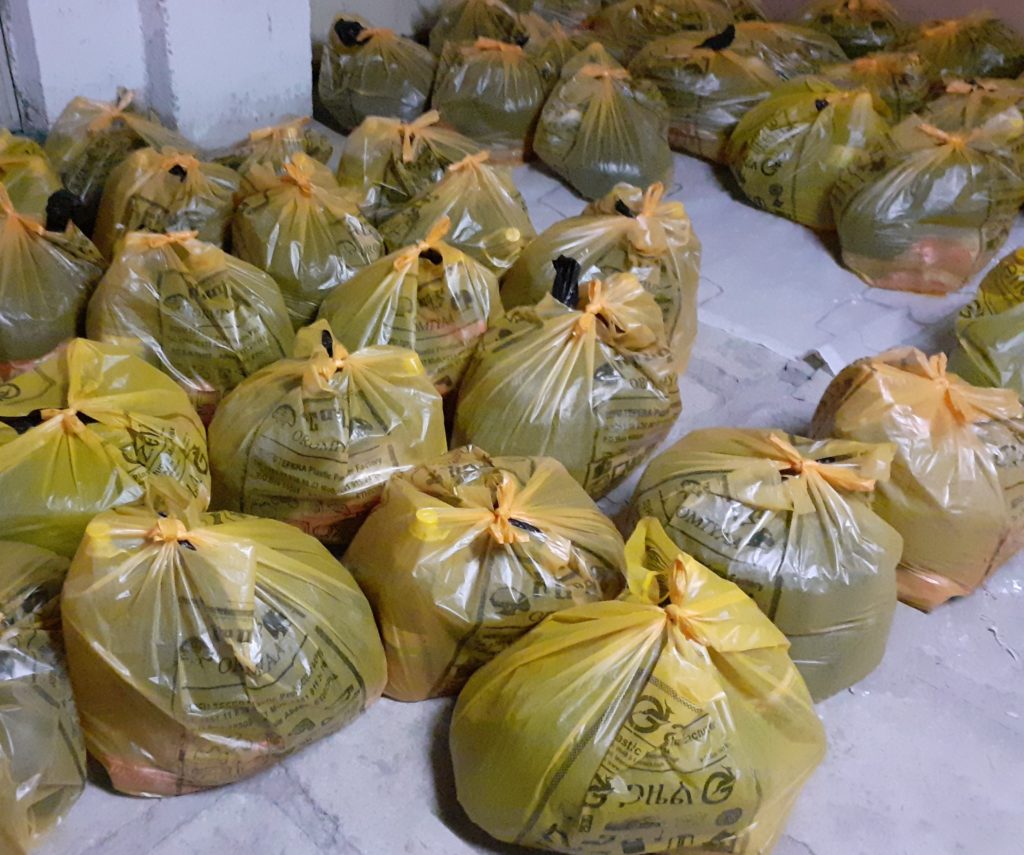 Increase the food security, nutrient intake, and overall resistance to the current economic shock, of marginalized peri-urban households throughout the COVID-19 crisis and its economic consequences.
Increase the safety of marginalized peri-urban households against the risks of contracting the virus while trying to provide for their families.
---
Entoto Nutrition and Women Empowerment Program
Started in June 2017 with 100% volunteers, it's a 3-year community project in Gulele sub-city, Addis Ababa. It has a direct impact on 38 individuals (19 mothers and their newborns) and an indirect impact on their husbands and their other children. In the long run, through the "Nutrition ambassadors program", it aims to reach hundreds of other households in the community.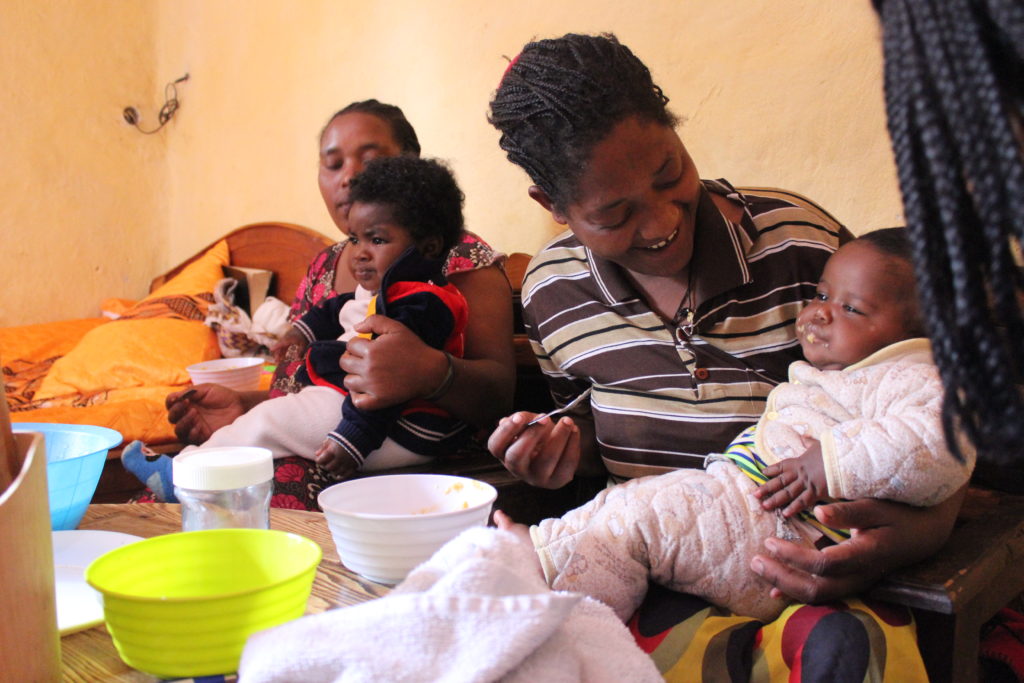 Increase the knowledge, attitude and practice of mothers towards child care through training and workshops with mothers on the areas of nutrition, hygiene, sanitation, basic health care child care and child feeding behavior
Improve the mothers' source of income and improve the households life quality and nutrition outcomes trough saving and micro-loan schemes, business and life skill training, counseling etc…
Select 3 mother champions to teach the other mothers of the community on the importance of good nutrition during the first 1000 days and to show them in practice.
Prepare the self-sustainability of the VSLA group created under the project.
" I'll give my support for the group so that it continues as it is. Because of this program I have expanded my social group and also I started my own business which helped me to cover my house expenses. "

Kibinesh, Abel's mother
" I started saving and opened a bank account at the Commercial Bank of Ethiopia. I can now afford to buy all the necessary ingredients from the market to feed my child. "

Etenesh, Metassebia's mother
---
Taste week with Alliance Dire Dawa
During the annual French taste week held in November 2018 in Dire Dawa, we collaborated with Alliance Française Dire Dawa to reach 110 individuals: 45 primary school children , 20 kindergartners, 30 toddlers' parents and 15 pregnant and lactating women from the Jerba peri-urban community.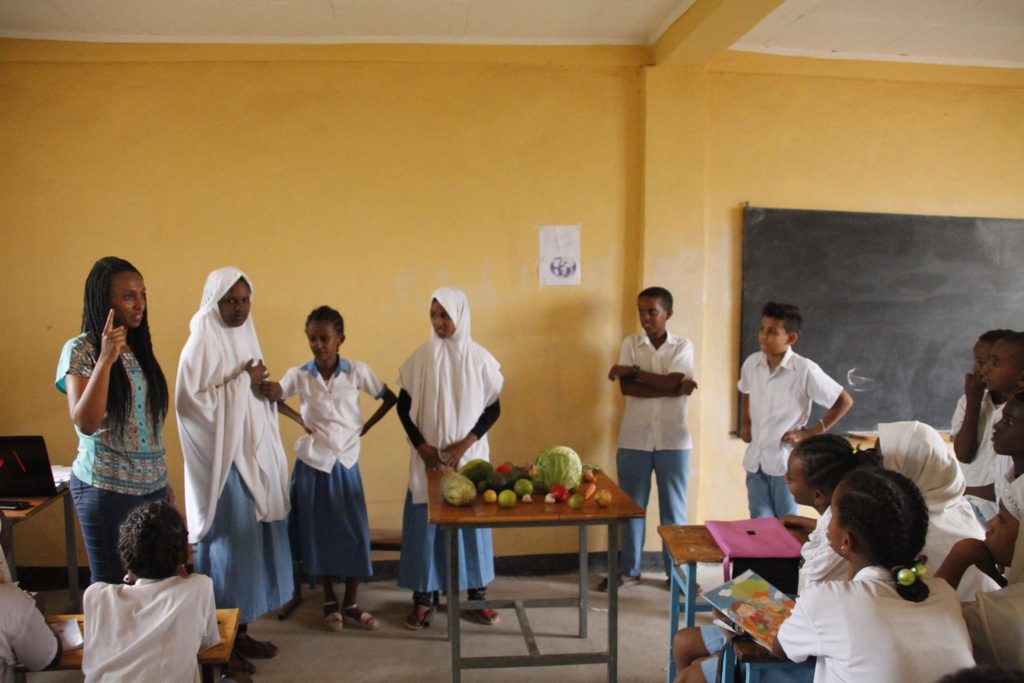 Class work, games and workshops with 3 rd and 4th graders of Avenir primary school to educate about good nutrition and adequate hand washing behavior.
Discussion with toddlers' parents about balanced and diversified diet; the challenges of child feeding and its possible solutions; the content of school lunch boxes and the organization of family meals.
Nutrition initiation workshop for day-care level children by interacting with fruits and vegetables in a fun way in order to support the efforts of the parents at home.
Discussion and demonstration workshop with women in the Jerba community on topics such as maternal nutrition during pregnancy and breastfeeding; the start of food diversification; the basics of a balanced and diversified diet; the fortification of baby foods in a simple and practical way; hand washing etc…
---
Nutrition and women empowerment community project in Akaki Kaliti and Kolfe Keranyo sub-cities of Addis Ababa
Started in May 2019, it's a 2.5 years-long community project in Akaki Kaliti and Kolfe Keranyo sub-cities of Addis Ababa. It impacts directly 120 individuals (mothers, fathers, and their newborns) and indirectly other members of the households and other community members.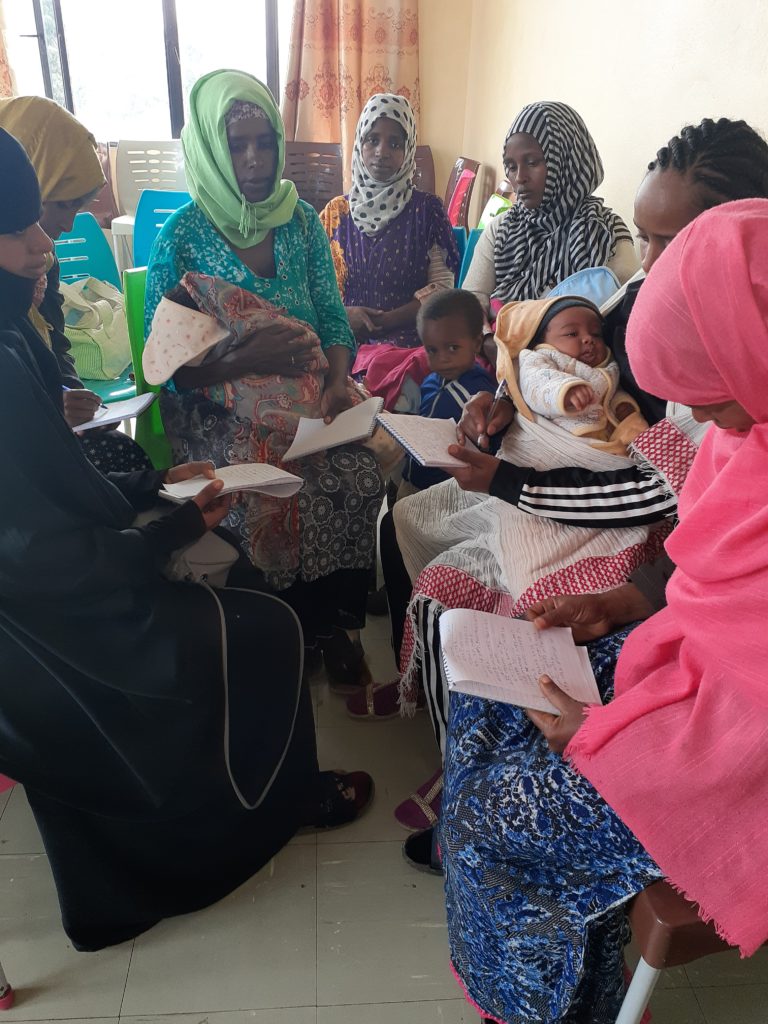 Empower two different communities through nutrition & health workshops as well as gender programs in order to increase the knowledge, attitude and practice of parents towards better child nutrition and care.
Support the beneficiary households to practice urban gardening activities and produce some of the ingredients they need to provide nutritious food for their children.
Provide to the mothers an opportunity to improve their income by setting up revolving funds for their businesses, by encouraging saving and by providing business and life skill training. The objective is to increase their bargaining power, their self-confidence and enable them to transform their knowledge into practice.
---
Nutrition and Health satellite program
In partnership with volunteer health professionals and different institutions where young mothers and fathers gather, this program ambitions to reach as many young parents as possible. By intervening in different health institutions, we offer them guidance, information and tools to better nourish themselves and their children throughout the critical periods of pregnancy, breastfeeding and complementary feeding.
The program has started in July 2019 at Nigat Charity organization. Since then the program has expanded to 3 different institutions: St. Paul hospital (Michuu Clinic), International Samaritan community center, and Supporting Street Children and Mothers (SSCM). Other regional partner institutions are also under preparation to be started.
---
Nutrition leadership training
Held in October 2019, at the American Center of NALA, the nutrition leadership training program was a two weeks training program provided in partnership with Kansas State University and with the support of the U.S. Department of State through IREX and the U.S. Embassy Addis Ababa.
The training was delivered by Dr. Sandra Procter from Kansas State University and Hiwot Amare from N4ED for 90 health care professionals (health extension workers, health service providers, and decision-makers) selected from 3 partner health centers. It addressed simultaneously leadership and nutrition concepts in ordered to provide knowledge but also the tools to use knowledge in a practical way.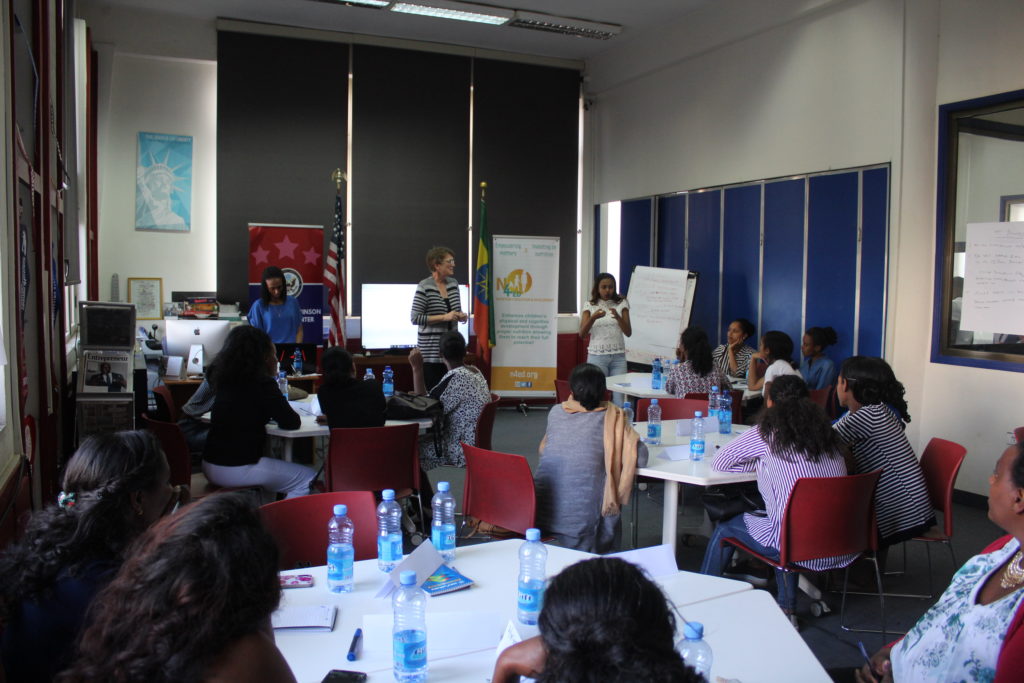 The following topics were addressed : the relationship between good nutrition and good health; maternal nutrition in the context of Ethiopia; the importance of nutrition in the first 1000 days; healthy diets in the personal space to lead by example; managing technical vs adaptive challenges; understanding self and acknowledging progress; identifying barriers and understanding our locus; management styles; and the concept of the common good and exercising leadership from where we stand.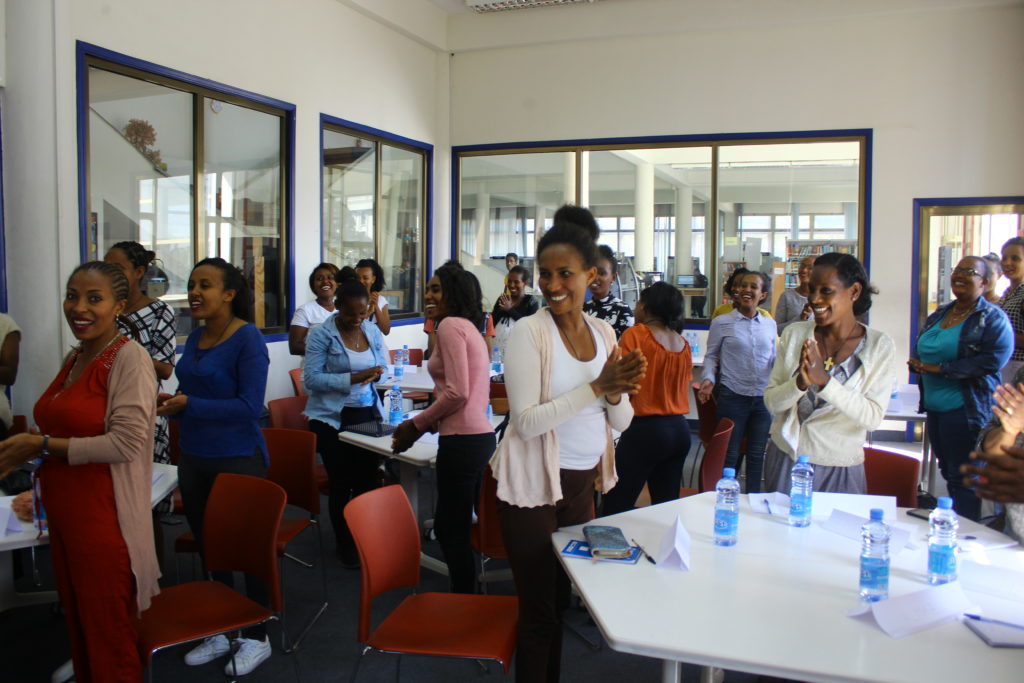 The trainees left with a commitment to change the way they do things at work and to lead from where they are as well as to trickle down what they have learned to their peers and to the community.
---
Nutrition & Health signature event at One Planet International School
One Planet International School (Addis Ababa) dedicated the whole month of February 2019 to educate their students on their health and nutrition through different activities ranging from Science to Maths and to Physical Activity. At the signature event where students and parents were invited to share and to learn the result of this month's work, N4ED run multiple sessions focused on child feeding behavior and volunteerism. These sessions that reached about 78 parents and children aimed to discuss common challenges around child feeding, to provide useful parenting tips and to inculcate volunteerism from early age.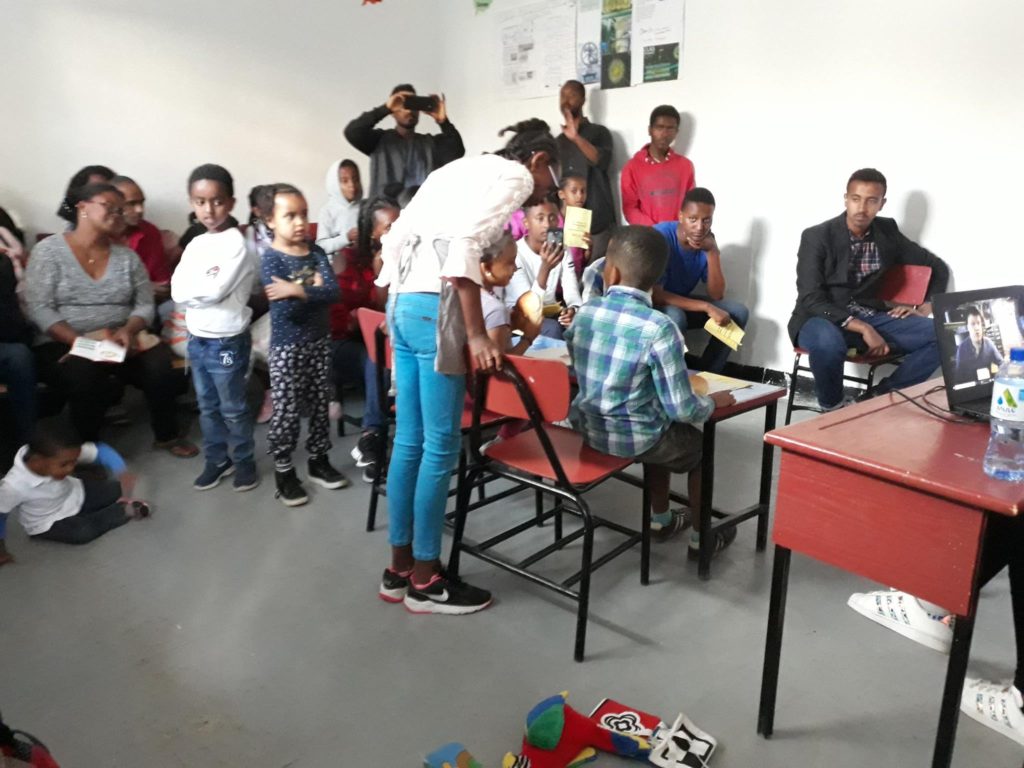 A drama session acted by the students themselves to teach children and parents about behaviors that lead to complicated child feeding practices at home.
Based on the drama, discussion about best practices around child feeding behavior, home meal planning an school lunch box contents.
Storytelling about N4ED's background and discussion about volunteerism, community engagement and it's ramification on creating a more equitable society.
---
Held in December 2019 and January 2020, this program has been hosted by Madga Tedla from Magda's Food Program and with the kind sponsorship of Temsalet Kitchen, Sishu Burger, Dok Restaurant, and African Mosaïque. It was an educational event to raise funds for our organization's new initiative of opening a child care center service that will provide a safe, clean and stimulating environment as well as nutritious foods for children from 6 months old to school age. The healthy meal cooking training was held throughout 3 weeks composed of 8 sessions for adults and 1 session for children.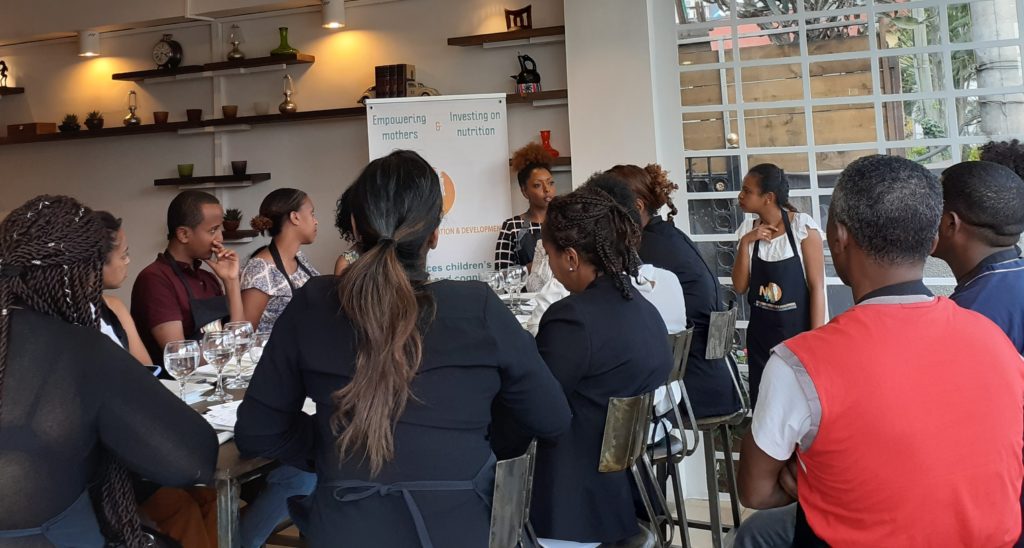 ---
Nutritious and ingenious foods series with WANDA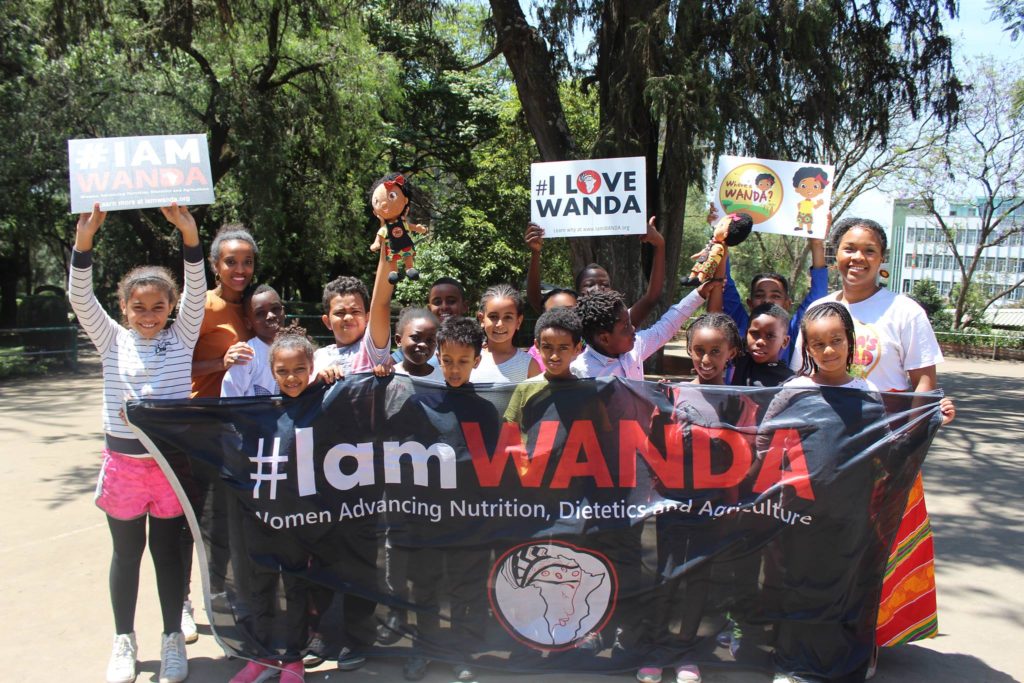 Led by WANDA's founder and CEO, Ms. Tambra Raye, we spent time with over 50 primary school children in Lycee Guebre Mariam and One Planet International schools in Addis Ababa to create awareness about the importance of balanced and diversified meals and to discuss about indigenous nutritious foods while sharing the journey of Little WANDA in the #WheresWANDAbook series.